Produced by Iburi division of Japan Boyscout Hokkaido
Keep up! Courage West Iburi!
An active volcano, Mt. Usu in Hokkaido
bursted into eruption!
Japanese
Report from the last person in Abuta!
Last update April 4th
Live report from Kajima-town in Date-city!
Kami-nagawa area is designated to evacuation area.
No volunteers is required now.
If you will contact the volunteer center, you'll await unfortunatelly.
Unconfirmed Information from the field
After the eruption, rails of JR(Japan Railway Company) were bent by pressure from the mountain.
Girder of the highway seemed to be got damaged
Staffs of Tohya Kyoukai Hospital(Gotoh director) are
preparing to settle temporary clinic
at Toyoura-town children center.
Public relation magazine ABUTA April 1st extra issue
Mt. Usu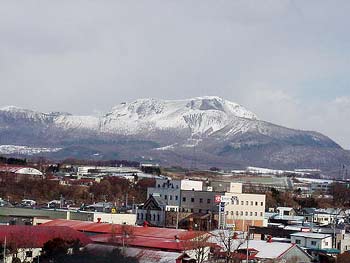 ABUCYU(Abuta Junior Highschool) Report
Information of Date Junior Highschool
Students of Abuta Junior High school !
Please telephone the vice-principal of your school at Neipal Tohya and tell him where you are evacuating now.
(Telephone number of Neipal tohya: 0142-83-2017)
Added information of Toyoura-town
Information of entrance ceremony
Please do not call to Date-city, Abuta-town, Soubetsu-town, Toyoura-town, Ohtaki-town, Tohya-village !!
Mt.Usu


Taken at Apr. 1st 11:15

Please do not call to Mt.Usu area.
[How to use 171 service : How to record]
Dial "171", after guidance dial "1".
And dial your telephone number from area code.
The number should be your family or freinds know,
for example your home telephone number.
After guidance, record your message.

[How to use 171 service : How to listen]
Dial "171", after guidance dial "2".
Then dial your family or friends telephone number, for example home number, from area code.

Type of telephone which can use 171 service
Analog telephone, public telephone,
ISDN, mobile phone, etc.
You can record and any place in Japan.
Key telephone number for recording and listening is as follows:
Telephone numbers which start with the area codes,
011, 012, 013, 014, 015, 016(Hokkaido area codes)
http://www.ntt-east.co.jp/release/0003/000329a_1.html
Let's join our mailing list and give us your information!
Especially we need informaion from residents of disaster area.
For more information, please access homepage of Informational
education center of Murolan(http://www.iburi.ed.jp).
Request for co-opration of ham
JARL started 24 hour listening shift
The Japan Amateur Radio League, Inc. Hokkaido local HQ (Sapporo, Chairman Tsuneo Hara)
started 24 hour listning shift in the morning on 29 for preparing Mt.Usu eruption,
and request ham user to give inforemation ( about regugee, accident and SOS .).
The shift will continue until safe declaration.
Frequency : Iburi and Watarijima area is 145.00MHz(normal),
439.84MHz(low power which need JR8WC repeater).
Other area 3535KHz.
For more information please call to +81-11-251-8621(office) or +81-1376-5-2288(Hara chairman)
Road information
Information of volunteer activity
* Murolan Department of development and construction, Hokkaido bureau of developmnet(light!)
Closed road and detour, map
http://www.mr.hda.go.jp/usu.htm
Mt. Usu volunteer center local headquater
Date-city social wellfare council
Date-city municipal office annex 1
20-1 Kajimacho, Date-city
0142-25-0816, 0142-25-0817, 0142-258-0819
Informational education center of Murolan-city educational committee educational laboratory is providing temporary internet access accounts to organizations, refuges, shools, volunteers working at the disaster area.
The access point is located at Murolan-city. Free of charge and you can use it until Mt. Usu will come to calm.
For more information, please contactsatoh@edu.iburi.ed.jp.
Thank you for lots of encouraging and consolatory mails!
I am sorry that I cannot write you back now.
Link to Science company
Link to Mr. Tsuyoshi Hoshikawa, assistant professor of Ohtsuma wemen's university
Link to Asahi Shimbun newspaper
Link to Hokkaido Shimbun newspaper
Link to Date-city municipal office HP
Link to page concerning Murolan local weather station
Link to Soubetsu-town
Link to Abuta-town
Mt. Usu and Mt. Showashinzan before the eruption

Contact : tomita@farmersb.com
farmersb@seagreen.ocn.ne.jp
I cannot answer your query by telephone. Thank you.